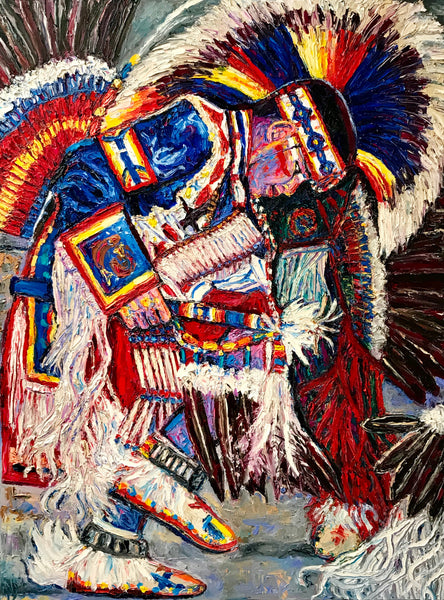 Meridy Volz
Warrior #6
TITLE: Warrior #6
ARTIST: Meridy Volz
MEDIUM: Painting - Oil On Canvas
DIMENSIONS: 48" Height x 36" Width (Vertical)
DESCRIPTION: 
ABOUT THE ARTIST
Meridy Volz is known for her inventive use of intense color. This internationally acclaimed artist uses the figure in all her work to express passion and sensuality. Her work is best described as gestural, and Expressionist with an Impressionist palette. Paintings are rendered in oil and her drawings in pastels and oil pastels. She uses texture and stroke to create an impasto surface on the canvas, thus creating a vibrant movement of energy, and the shockingly innovative use of electric color creates the mood. Meridy paints with her fingers and palette knife.
Meridy has been painting since she was three. She was born in Milwaukee Wisconsin on September 28, 1947, and received her first art scholarship at the age of six to the Milwaukee Art Center. She went on to graduate from The University of Wisconsin with a degree in art education in 1971 and worked as an illustrator/consultant for the Rockefeller Foundation. Meridy then moved to San Francisco, where she not only had many solo exhibitions in the area but her work received numerous awards, such as the California Discovery Award and multiple Best of Show awards in juried exhibitions. During this period, Meridy taught art workshops at
San Quentin for the Arts in Prisons Program
and taught art to adults and children in various venues. She then moved to Puerto Vallarta, Mexico, where she lived for a decade working and showing in one woman shows. She has work in numerous private collections. In 2010, Meridy won First Place at the Palm Springs Art Museum Artist Council Exhibition.