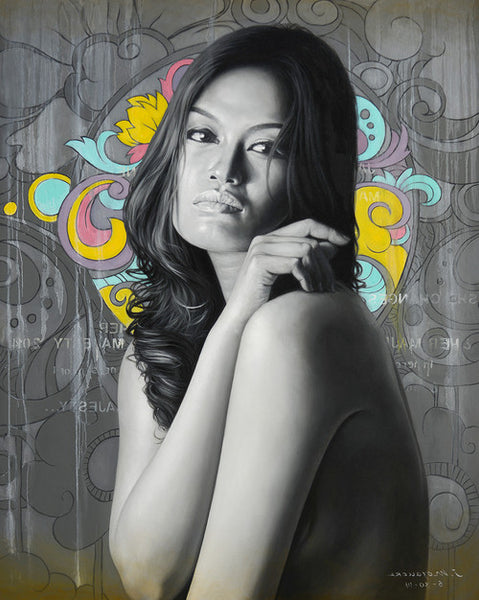 Jay Mosquera
Janine
TITLE: Janine
ARTIST: Jay Mosquera
MEDIUM: Painting - Oil On Canvas
DIMENSIONS: 60" Height x 48" Width 
DESCRIPTION: She was crowned Miss Universe Philippines 2012 and placed 1st Runner-up at Miss Universe 2012.
ABOUT THE ARTIST
Jay Mosquera is a Filipino artist worked and moved between the worlds of traditional media, television, film, and advertising, He have had the opportunity to practice his art in ways that are both creative and challenging. His professional experience is as varied as his art.
He was a lead animator at Mabsutoon Productions, a character designer at Holy Cow Animation, and a graphic designer/animator at Mosquera Multimedia. He is currently serving as an Art Director for Club Six Studios, Inc. As a freelancer, He have consulted with companies and clients in designing and producing commercial and personal projects.
His style is a mix of Realism, Fantasy, Surrealism and Pop art, which creates a unique style.
His work has been exhibited in Asia, Middle East, and United States.